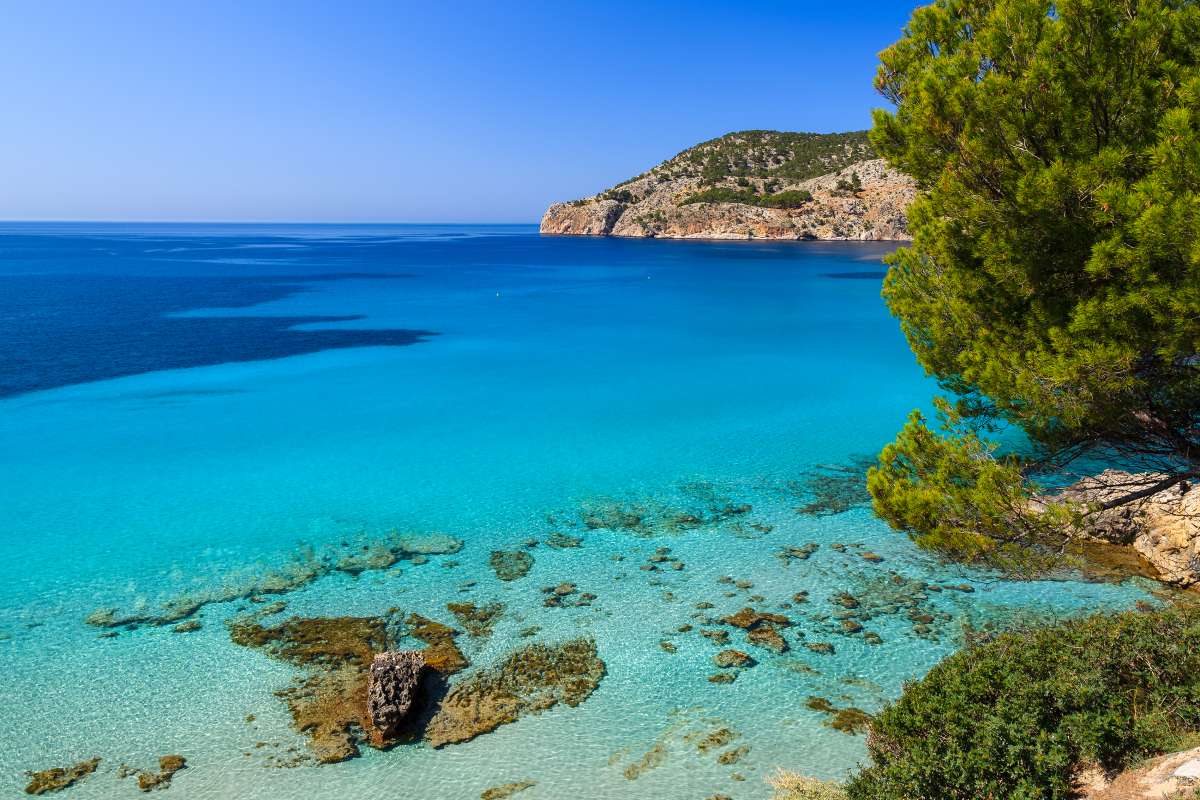 The 5 most beautiful beaches in Mallorca
written by Es Príncep / November 08, 2018
Are you one of those people who really enjoy a day at the beach? Mallorca has some of the most paradisiacal beaches in the Mediterranean. The island offers natural landscapes of incalculable beauty. Beaches with a warm climate, fine sand and almost crystalline waters.
At Es Príncep we know that one of the main attractions of our island are its beaches. There are many factors that make Mallorcan beaches unique places. From beaches full of life to coves that are a haven of peace and total disconnection where the sea breeze reminds you that you are on an island.
Today we present what we consider to be the 5 most beautiful beaches in Mallorca, perfect for loading up on vitamin D and enjoying a quiet day on the coast.
1. Es Trenc
If you are one of those who enjoy sunbathing and swimming while enjoying nature, you cannot miss the opportunity to visit this beach. The beach of Es Trenc is almost 3000 metres long and the dunes in the back give it an almost tropical atmosphere. It consists of three areas: Arenal d'en Tem, Arenal d'en Tenc and Es Trenc beach, which is the closest to Colonia de Sant Jordi.
It is possibly the best known and most visited beach in the whole of Mallorca. It was declared a protected natural area and is located in a place surrounded by nature, which gives the feeling of unwinding, natural beauty and a pleasant temperature.
It is definitely worth a visit. The beach is in the ranking of the most beautiful beaches in the world and has several beach bars and endless activities to enjoy. It is ideal for spending the day with children as the turquoise waters are shallow and very calm.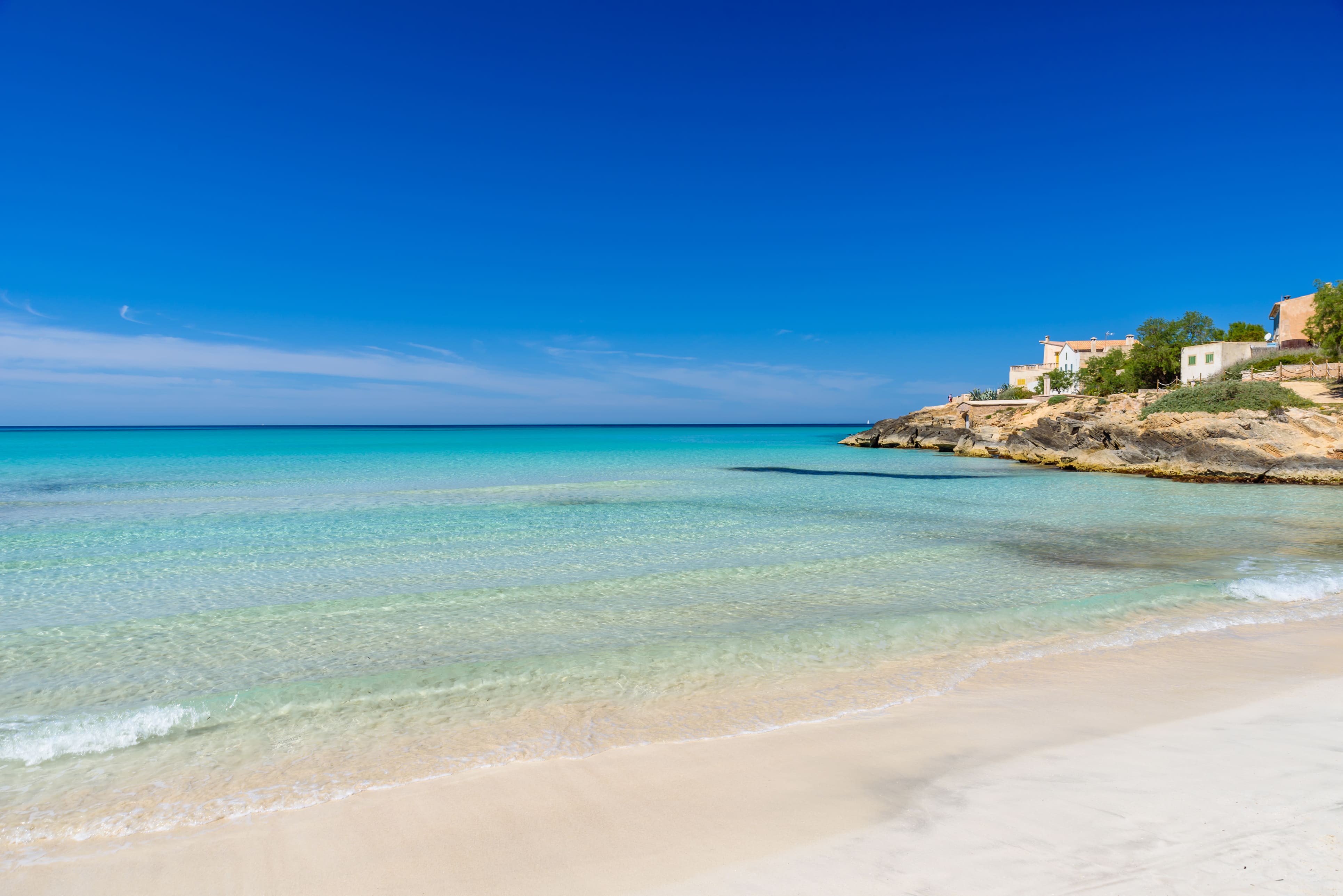 2. Cala Varques
In the southeast of the island of Mallorca, in the municipality of Manacor, we find Cala Varques. It is one of the most charming beaches on the east coast. Its access is well hidden, surrounded by a pine forest, where there are several caves and underwater galleries. Its blue waters, said to be the bluest of all beaches, make it a popular destination for snorkellers and other water sports enthusiasts.
With 90 metres, it is not the largest beach, but surrounded by cliffs and pine forests, it has a very special natural charm. It is advisable to arrive early and wear comfortable walking shoes, as the cove is about a 20-minute walk from the car park. There are no facilities, so it is advisable to bring drinks and food to spend the day on this beautiful beach.
3. Camp de Mar
Emerald waters, white sand and an island in the middle of the water. Located in Andratx, in the south-west of Mallorca is Camp del Mar, a sandy area with a beach and several rocky coves perfect for enjoying a day at the beach.
It is considered an ideal beach for families with children, as there is a wide range of restaurants in the area and the beach itself is well equipped with umbrellas and sunbeds. Also important, it has a lifeguard. The most popular attraction is the restaurant that is "floating" above the sea on the small island where you can enjoy beautiful sunsets.
Due to its easily accessible location and unique characteristics, the beach is very busy, especially in high season, so we recommend you come early in the morning to enjoy it as much as possible.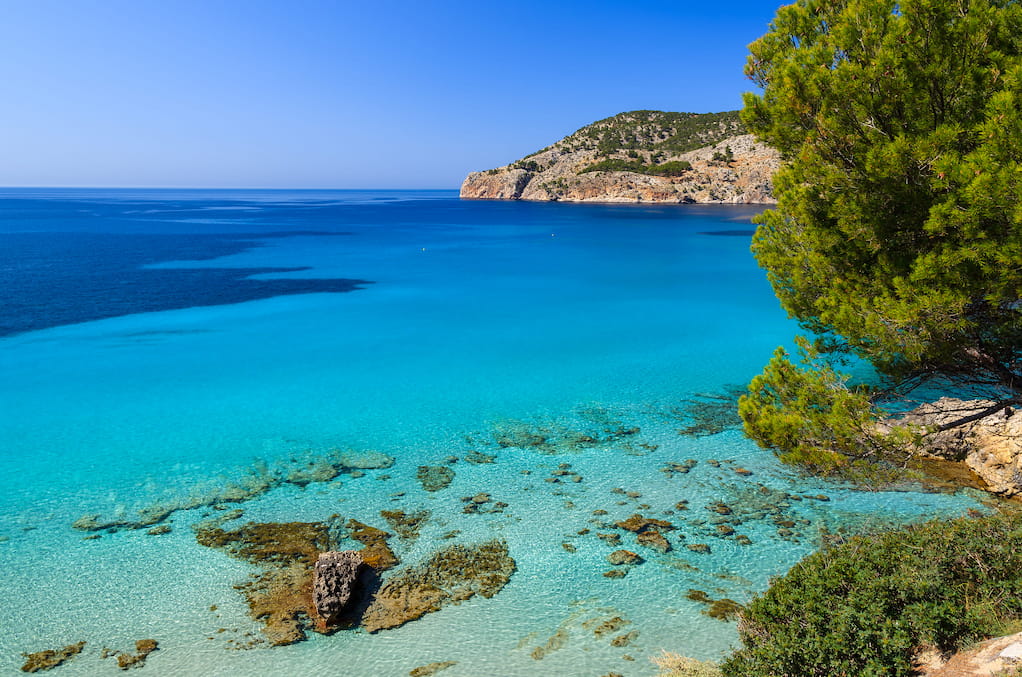 4. Sa Calobra
Another beach not to be missed during your visit to Mallorca is Sa Calobra. It is located in the northwest of the island in a unique setting between steep rocky cliffs. After the adventure of travelling along the winding road (unless you came by boat), the beach is ideal for a day of total relaxation and a place where you can switch off 100%.
Access is not easy (perhaps not the best beach for families with children), but it is worth visiting this place where a fascinating torrent flows out. So it's no wonder that thousands of people venture here every year.
For nature lovers, the nearby hiking trails in the Serra de Tramuntana are the perfect complement to an all-round great day out. Beware, however, as some of these trails, especially the one along the Torrent de Pareis, require a good level of fitness and some mountain experience. At Es Príncep we can give you all the information you need.
5. Cala Mesquida
We end our recommendation of the 5 most beautiful beaches in Mallorca with Cala Mesquida. This beach is considered to be one of the cleanest on the island, with clear waters and fine sand inviting many families to spend the day on this beautiful stretch of coastline. Surrounded by sand dunes, this quiet beach in the north-east of Mallorca is lucky to be largely unspoilt. It is not very long, but it stretches far inland.
There are numerous bars and restaurants in the area. The beach is guarded, and there is also a Red Cross station, which is manned during the day in high season. Sunbeds and parasols are also available.
Cala Mesquida is easily accessible by car and there is ample parking on the beach as well as free parking in the surrounding streets.
At Es Príncep, we hope you have enjoyed this little insight into the 5 most beautiful beaches on Mallorca and, above all, that it has whetted your appetite to visit one of these sandy beaches on our island.
We know that we have left out many magical and emblematic places, but one of the main attractions of Mallorca is undoubtedly its beaches. We assure you that there are many beach days in Mallorca, even in spring and autumn, and occasionally in winter. And remember, if you need any help or advice about the island, our team is here for you.