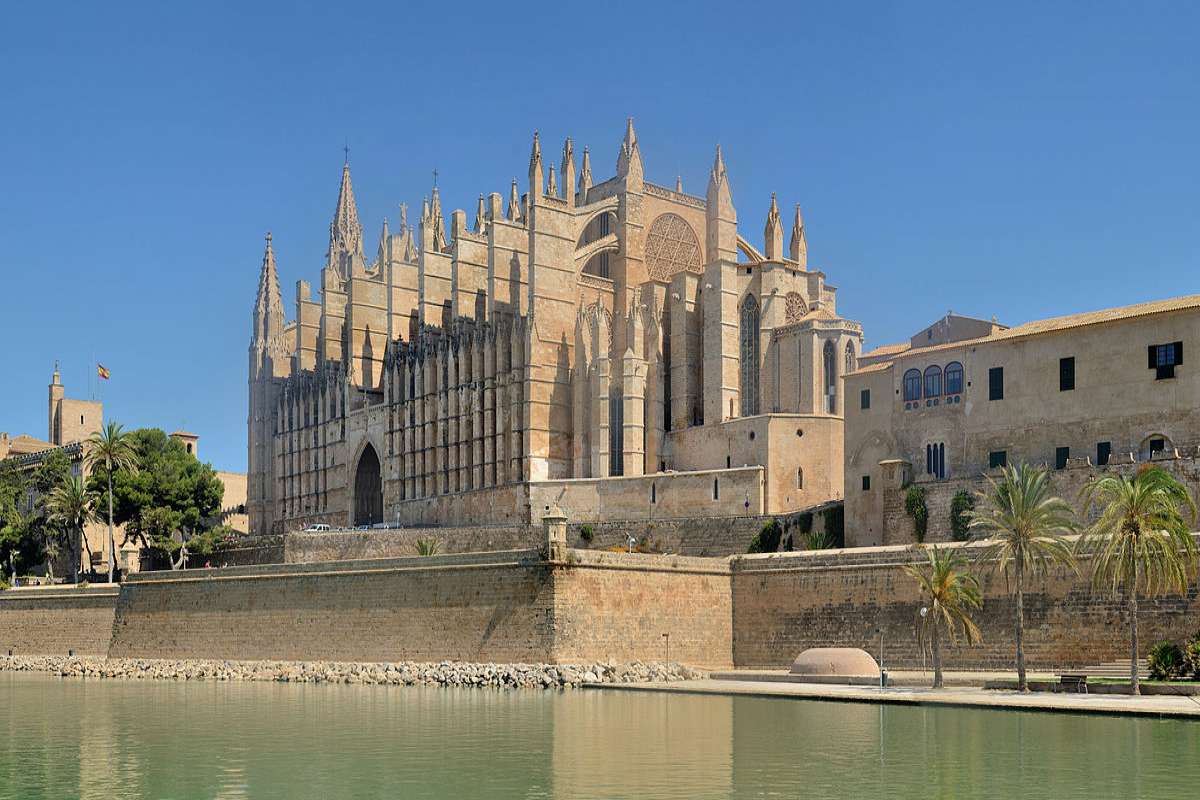 La Seu, the cathedral at the foot of the sea
written by Es Príncep / August 15, 2022
More than a novel, Cathedral of the Sea would be a more than appropriate title for this architectural jewel that rests day and night at the foot of the Mediterranean Sea.
Not only is it one of the tallest cathedrals in Europe, but La Seu in Palma has the largest rose window in a Gothic cathedral.
Its stylized beauty, its majesty, its elegance and its interior make it an obligatory stop for all visitors to Mallorca.
Declared a Historic-Artistic Monument, the Cathedral of Mallorca is the most emblematic and beloved artistic heritage of the citizens of the islands and its visitors.
"Outside you will see its structure, but go in and you will see its soul!"
Santiago Rossinyol.
As we are in the same neighborhood, from Es Príncep we can feel the admiration of all those who fall in love with its charms.
Here are 5 fun facts about the Cathedral of Mallorca that no one should miss:
Its construction, back in 1229, was the result of a promise made by King James I after being saved from a shipwreck at sea. It was not completed until 1601.
Antoni Gaudí and Miquel Barceló, two of the most important artists of their time, intervened in the ornamentation of the Cathedral. While Gaudí was in charge of moving the choir, removing the altarpiece and building a beautiful baldachin in the main altar, Miquel Barceló made an impressive polychrome ceramic mural in the Chapel of the Blessed Sacrament inspired by the miracle of the loaves and fishes.
The spectacle of the 8 is a phenomenon made of light, color and magic that takes place twice a year: on February 2 (2/2) and November 11 (11/11) around 8:30 am, and as long as the sun makes its special appearance, a luminous eight is formed. The light passes through the main rose window and its reflection is projected on the wall in front of it, forming an eight composed of two rosettes: one of glass and the other of light.
Enjoying breathtaking views is possible thanks to the visit of the terraces of the Seu. During the summer months, the Cathedral of Mallorca organizes from Monday to Saturday guided tours that allow you to discover inaccessible corners, such as the bell tower and its rooms. In addition, the views of Palma will bind you for life to this endless city.
All the bells have their own name, from the biggest to the smallest: N'Eloi, NaBàrbara, N'Antònia, Sa Nova, NaMitja, NaTèrcia, Na Matines, Na prima and NaPicarol.
No one knows Mallorca in depth without having been delighted by the beauty of this cathedral made of stone and water, heart and feeling.