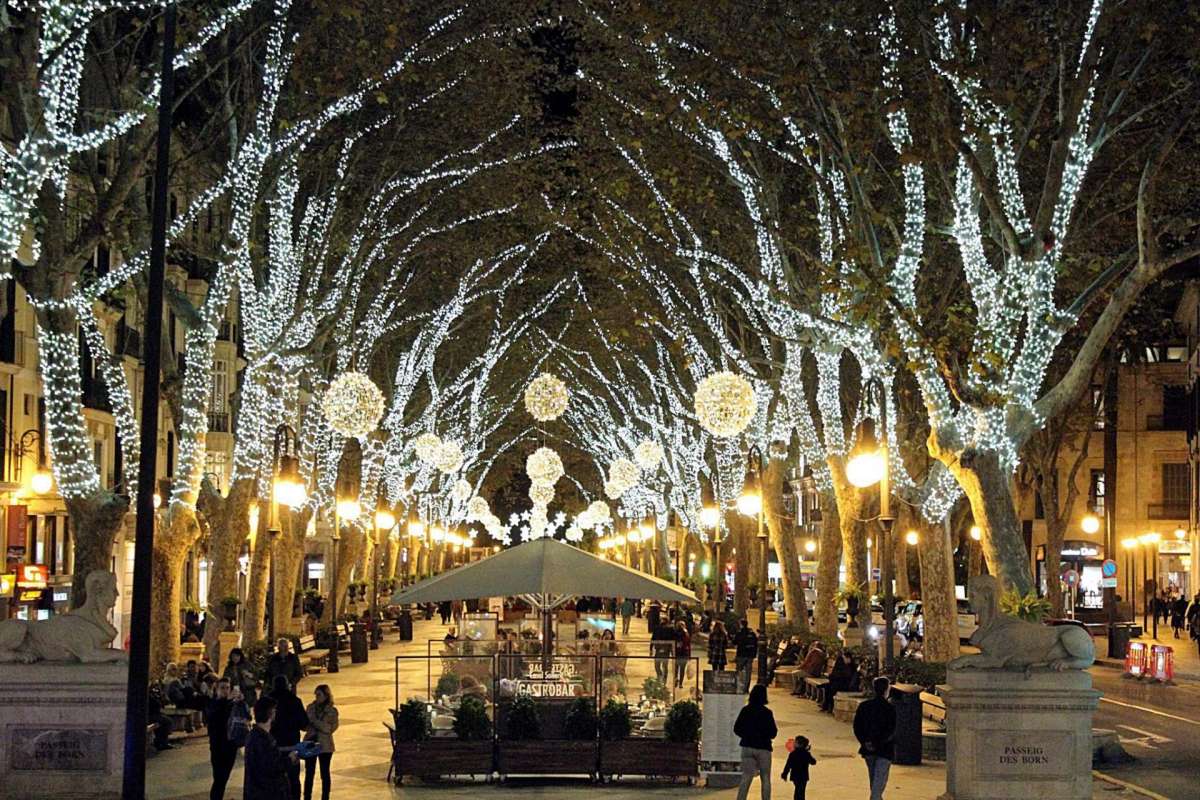 7 plans to do this Christmas in Palma
written by Es Príncep / December 23, 2022
Lights, Christmas carols and reunions, events, holidays, and lots of joy behind every corner.
Christmas is the time of the year when many families gather to celebrate and share time together. An opportunity to strengthen bonds with the loved ones, to foster unity among members and, why not, to rediscover the cities that dress up to welcome both the holidays and those who return home for Christmas.
Palma is undoubtedly a very popular tourist destination in summer, but Christmas has a special charm in the Majorcan capital. The weather is still warm, the streets are decorated, and the city is filled with a special magic.
One of the main Christmas attractions is the illumination of the historic center of the city. Elegance, sophistication, and some of the most beautiful lighting in Europe that gets both tourists and locals take to the streets to enjoy the show.
From Es Príncep we want to recommend 7 plans to do this Christmas with your family, partner, or friends. Christmas plans that will make you enjoy the festivities from the first moment until the end:
Stroll through the Christmas market in Palma's Plaza Mayor: admire the artisan stalls and take the opportunity to buy the odd gift that is pending.
Go to listen to the song of the Sibil.la at the Cathedral: in addition to enjoying a tradition that is Intangible Heritage of Humanity, you can enjoy one of the most beautiful cathedrals in the world.
Hot chocolate and ensaimada: a stop after a walk at Can Joan de S'Aigo, a hundred-year-old cafe in Mallorca, is a mandatory tradition for all locals.
Walking aimlessly observing the Christmas lights: both the suburbs and the center of the city are illuminated with Christmas lights. Lose yourself in the city and, like Dorothy in Oz, let yourself be guided along the yellow brick road.
Passeig Sagrera Christmas market: not only the Plaza Mayor has one of the best Christmas markets. Passeig Sagrera has a multitude of artisan stalls, ideal for doing Christmas shopping.
Take the opportunity to visit a town in the Serra de Tramuntana: Valldemossa, Deià. Fornalutx, Selva, Sóller, Caimari… Any of them will be an excellent option and if, in addition, you end it enjoying an arròs brut, your life will improve remarkably.
Treat yourself and try Fernando Arellano'sZaranda restaurant.A Michelin star that will get you to start 2023 with a bang.