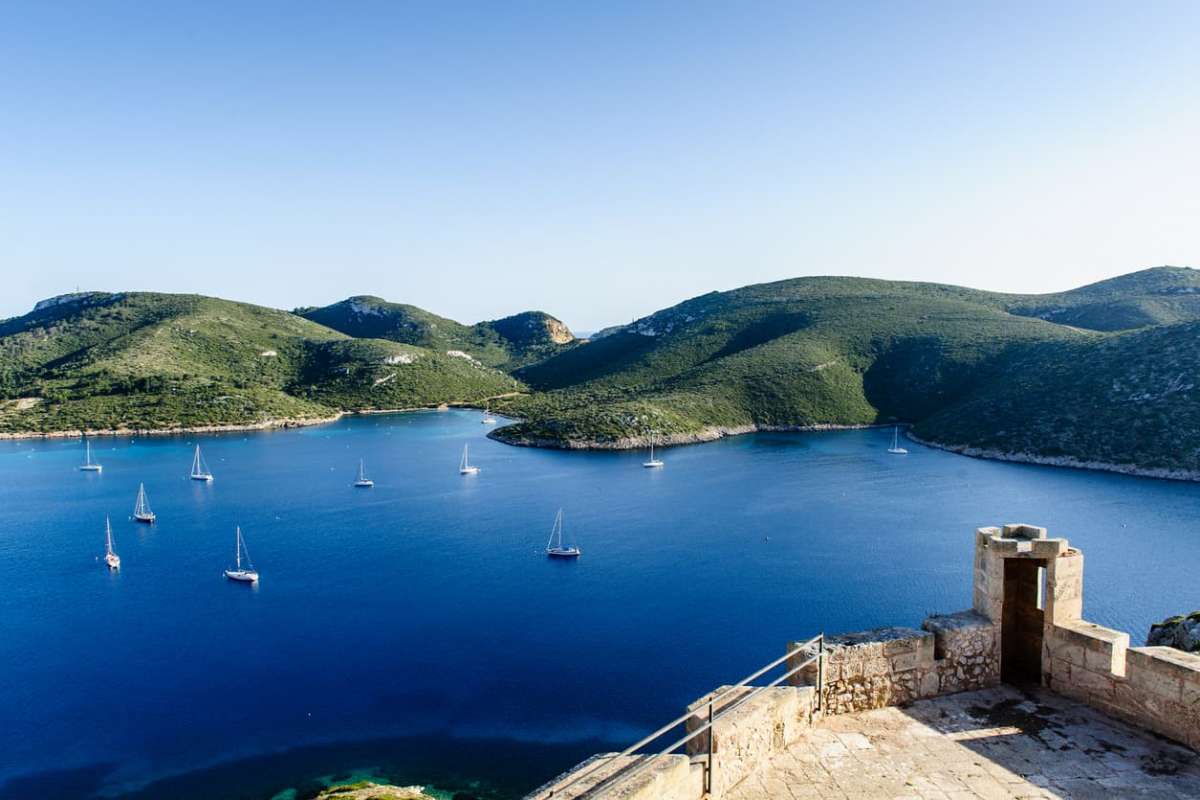 Cabrera, the elegant younger sister
written by Es Príncep / June 29, 2020
Just ten kilometres south of Cape Las Salinas in Mallorca is the archipelago of Cabrera, a place that will enchant you with its paradisiacal coves and biodiversity. This island is a true paradise without hotels or houses. If you haven't had the chance to enjoy its nature and calm, we at Es Príncep encourage you to visit it.
The fauna and flora of Cabrera
The archipelago of Cabrera is one of the best preserved natural areas in the Mediterranean and is home to exceptional species due to its insularity. The clean, lively waters are home to more than 500 species, 113 species of bryozoans, 22 species of molluscs, 25 crustaceans, 87 sponges and 200 fish. Of particular note are the many unexplored underwater caves and caverns, where endemic species are still being discovered today. These mysterious places actually harbour species that have never been seen before. It is also possible from time to time to observe dolphins, a real attraction for visitors to the island.
As far as terrestrial life is concerned, reptiles are particularly abundant, and over the centuries they have evolved a variety of shapes and colours as they all compete in the same ecosystem. Of particular note is the Balearic lizard (Podarcis lilfordi), a unique species endemic to the island with 11 subspecies. There are also many birds that are attracted by the tranquillity of the island and nest there. Gulls, shearwaters, cormorants, kestrels, falcons, etc. form colonies on the archipelago. It is not surprising that Cabrera was the scene of one of the reports by Rodríguez de la Fuente, who made the following statements in 1979:
"I must admit my absolute failure as a naturalist and nature lover if we do not succeed in making Cabrera a park in the course of this year".
The reality is that he did not succeed, at least not that year. In 1991, however, the island of Cabrera was declared a marine-terrestrial National Park.
What to do in Cabrera
A day on this island of only 12 square kilometres offers the possibility of unforgettable experiences. You can reach the island in half an hour by boat from Colonia de Sant Jordi and there are many companies that organise guided excursions. Cabrera is the ideal destination for activities such as snorkelling, diving or bird watching. If you decide to take your own boat to Cabrera, remember that only up to 50 boats are allowed to anchor there per day. You will need to apply for a permit (or an anchoring permit if you want to stay overnight) from the park administration (www.reservasparquesnacionales.es).
A swim in the Cova Blava (Blue Cave), one of the jewels of this little paradise, is highly recommended. At sunset, the sun's rays penetrate the darkness of the cave and are reflected on the water. A wide spectrum of blue hues gives the place a magical atmosphere.
We can also visit a 14th century castle that was built to defend the island against pirates and corsairs. Throughout history, the island was attacked again and again, especially by pirates, so the castle was restored again and again. Between 1809 and 1814 it was used as a prison for Napoleonic prisoners from the Battle of Bailén and also as a field hospital. It also served as a quarantine area during several pandemics.
If you just want to relax in an oasis of tranquillity and crystal clear waters, the island offers a wide range of beaches. Particularly recommended is the beach of S'Espalmador, which is only a 15-minute walk from the port. This sandy beach is known for its tranquillity and the transparency of the water. The place is a veritable explosion of marine life, where fish of considerable size approach visitors without any fear.
In short, whatever you plan to do, a day in Cabrera will be a fascinating experience. At Es Príncep, we want you to have that experience, so we strongly recommend that you visit the island. We are sure that this little piece of paradise will always remain in your memory.