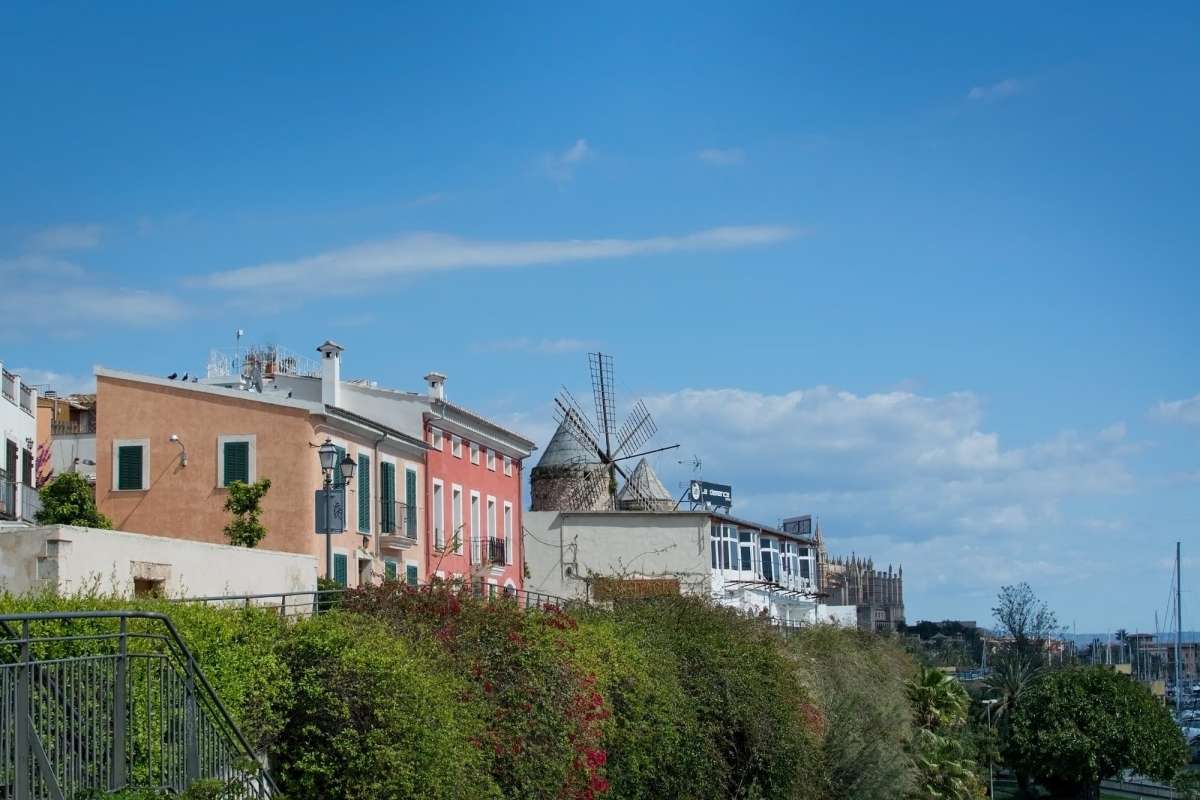 Discovering the district of Santa Catalina
written by Marta Pérez / March 18, 2019
A neighbourhood where tradition blends harmoniously with modernity. Mallorcan and maritime style mix with Nordic influences, and a modern and cultured local society meets those old seafarers who preserve the memory of a neighbourhood, a history and a way of life.
Do you want to know everything this trendy neighbourhood in Palma has to offer? Its traditional market, its restaurants and bars, its shops, its streets, its history... well, continue reading.
Santa Catalina, a neighbourhood in Palma with a lot of history
"If I survive, I promise to build a hospital for sailors and fishermen in the name of my patron saint".
Ramon Salelles, that shipwrecked sailor who managed to return home in one piece, kept his word and made good on his promise. In 1343, he founded a hospital in this area of the Majorcan town on the Mediterranean in the name of Saint Catherine of Alexandria, the patron saint of merchants and sailors.
Since then, Santa Catalina has been a neighbourhood in the heart of Palma, beating to the rhythm of the waves and the saltpetre, both so close and so present in its streets and corners. It is said that neighbourhoods with the imprint of the sea in their DNA always have an open character. A neighbourhood with local and distant roots that contribute to the dance of cultures, traditions and customs.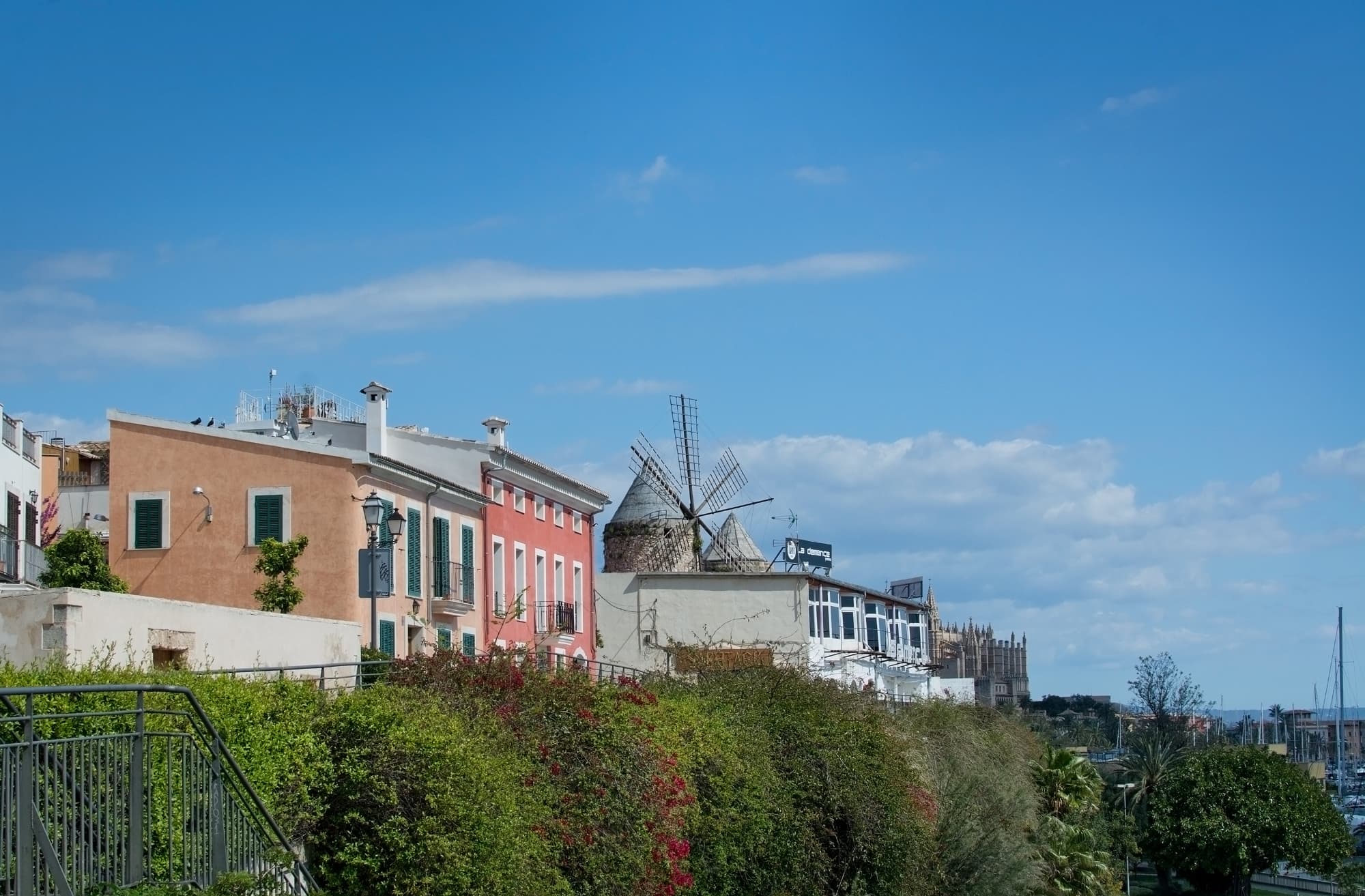 How do you get to Santa Catalina? And also important: where can you park?
The Santa Catalina neighbourhood is outside the old city walls, but still in the city centre. It is close to other places of tourist, cultural and/or commercial interest in Palma, such as the Paseo Marítimo, La Lonja, La Seu (the Cathedral), Bellver Castle, the Almudaina Palace, the historic quarter, Jaime III.... Therefore, a visit to Santa Catalina can take a whole day (or more), or just a few hours to combine it perfectly with some of the other emblematic places.
Once we are already in the centre and have parked the car properly (always remember that in the ORA zone the limit is 2 hours), the best thing to do is to walk there:
From La Seu (the cathedral) it's about 15 minutes.
From Jaume III it is only 5 minutes.
From Paseo Marítimo, only 2 minutes, depending on the area.
From the old town it is about 15 minutes.
From our hotel Es Príncep it is about 20 minutes walk along the promenade, past the cathedral or through the old town.
For those who want to arrive by car, it is important to mention that it is not easy to find a parking space in the Santa Catalina neighbourhood. A recommended alternative are the nearby car parks:
Paseo Mallorca, 8 minutes walk away.
Marqués de la Senia, 10 minutes walk away.
Parc de la Mar, Via Roma, Plaza Mayor and Plaza Patines, all 15 minutes walk away.
Another option to park your car is also in the area beyond Calle Conde de Barcelona and Plaza Progreso, where the streets no longer have an ORA zone.
What to do in Santa Catalina?
It all depends on the time available and your own tastes, but it is highly recommended to take at least a couple of hours. Then you can lose yourself in the streets flanked by traditional houses with bright colours, old wooden shutters and small balconies.
It is the ideal place to buy and taste local products, treat yourself or find the ideal gift in the clothing, decoration and handicraft shops... or enjoy a coffee, lunch or dinner in an original place. The district also stands out for its wellness services (beauty treatments, yoga...) and its nightlife with its bars and nightclubs.
Santa Catalina Market, a fusion of tradition and modernity
The reigning language in Santa Catalina is one of understanding and heart. The wonderful indoor market, built in 1920, is the heart of the neighbourhood. The morning hustle and bustle of breakfast and shopping mingle with the shopping baskets, vegetables, "cañas" (beers) and "variats" (various tapas combinations). Smells and flavours from all over the world, capable of impressing even the most demanding palates. Market cuisine with fresh and organic products, flowers, tradition and avant-garde all under one roof.
At Santa Catalina Market and in its surroundings, there is a friendly, close-knit, informal, bohemian and elegant atmosphere where lifestyles, cultures and characters come together.
Santa Catalina Market - opening hours and location
Santa Catalina Market is located in Plaza Navegación and its current opening hours are Monday to Saturday from 7am to 4pm.
The restaurant in Santa Catalina, a neighbourhood with an endless gastronomic offer
Whether for breakfast, lunch or dinner, in the Santa Catalina district you will always find the ideal place. In the market itself and in the surrounding streets (calle de San Magín, calle de Aníbal, calle Soler, calle Fàbrica...) there are places for all tastes and budgets, reflecting the mix of cultures in the neighbourhood. Cuisines from all over the world with products fresh from the market. There are restaurants specialising in fish and seafood, sourcing their produce directly from La Lonja or the market, as well as vegan and vegetarian restaurants with their high-quality, creative offerings.
Restaurants that set the trend in Palma's gastronomy, places with charisma that can attract both locals and tourists.
Some recommendations of restaurants in Santa Catalina:
Cafés and restaurants for breakfast: Can Joan, Frau, Santosha, El Perrito, Santina, Mama Carmen's, Thomas Bakeshop Boutique, La Madeleine de Proust.
Asian restaurants: Naan, Hakka Dim Sum, Basmati, Arume Sake Bar, Isaan Thai Cuisine, Nuru, Basmati.
Italian restaurants: Bunker's, Il Tano
Fusion or international restaurants: Rotana (Lebanese cuisine), Diner (American fast food), Duke (international cuisine), Sumaq (Peruvian-Japanese fusion), Vandal (dishes inspired by Argentina, Peru, Russia...), Sa Fulla (international cuisine with South American and Mediterranean influences), Stagier (gastronomic adventure for palates that want to let themselves go).
Healthy restaurants: Simply Delicious by Ronen (vegetarian and vegan dishes), EcoVegetaria (vegetarian and vegan dishes).
Evening and nightlife in Santa Catalina
Santa Catalina never sleeps. Before and after dinner comes the drinks and dancing, making this one of the liveliest and most fun neighbourhoods in the city.
Even in the evening, you can see people of almost all ages enjoying themselves in Santa Catalina's bars and clubs like Neo and Sala Luna.
In the night, we especially recommend Calle San Magín or Avenida de Argentina with their exceptional bars for a drink or cocktail. Worth mentioning are the Soho Bar with its sixties aesthetic, the Havanna Bar and Bar Cuba with its Sky Bar to enjoy a concert of Cuban music and jazz.
Santa Catalina is undoubtedly a special neighbourhood
Santa Catalina is a neighbourhood to fall in love with. All its shops, bars, restaurants, shops, markets, theatres and corners seem to be part of a whole where nothing is superfluous and everything fits together.
Lose yourself in Santa Catalina and you'll wish no one could find you.